INTERESTED IN VOLUNTEERING?
Volunteer Drivers: Contact Susan Goulet at 905-525-2012 ext. 3257
Fundraising Event Volunteer: Contact Roger Ali at 905-525-2012 ext. 3150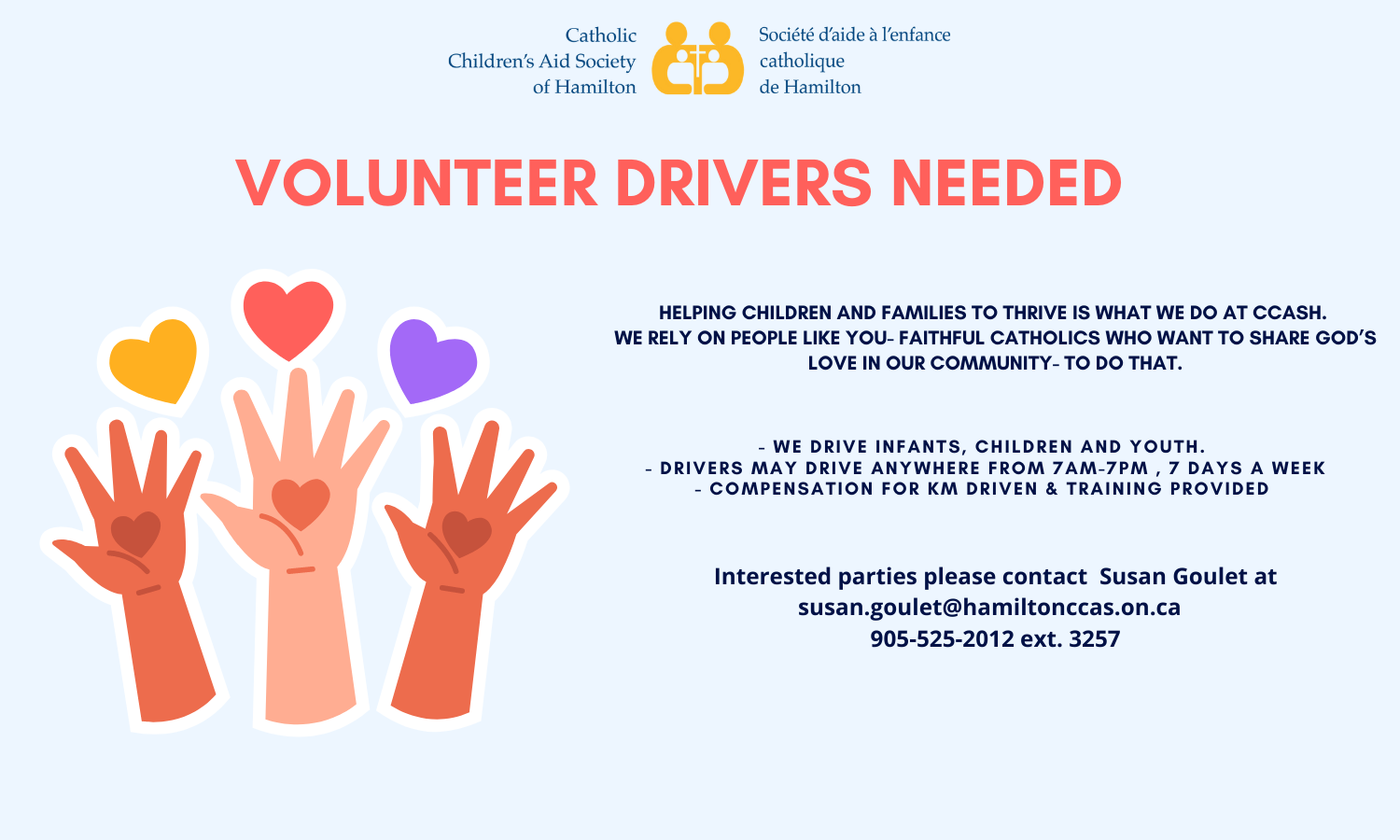 WE LIVE AND BREATHE OUR VALUES!
Success for Children, Youth and Families
Compassion and caring for one another and the people we serve
Equity and inclusion
Shared accountability
Family, church and community partnerships
Transparent communication and collaboration
Social justice
HOW DO YOU GROW HERE?
We have a comprehensive Employee Development Program from the moment you start with us:
Our Orientation & On Boarding Program is where you'll be welcomed you to our team! We set you up for success with information about our organization and an introduction to key areas of the agency.
With a comprehensive Training Program, we ensure you receive a lifelong learning opportunity to promote your professional growth throughout your career.
We offer Student Field Placements and Shadowing Experiences to help newcomers to the field. Your learning and growth throughout these placements truly demonstrates our commitment to foster collaborative relationships and partnerships.
CCASH prides itself on our Mentorship Program. You will have the opportunity to collaborate with agency experts who will help you develop new skills and master existing ones.
It doesn't stop there.
Each of our service units host Team Meetings and Case Conferences where Child Care Workers exchange information, learn best strategies to support our Children & Youth in Care.
We also have Employee Resource Groups and along with a Peer Support Group so you can share the common challenges our Workers face in their rewarding work.
Your Manager supports you through One-on-One SUPERVision Coaching and an Annual 2-Way Performance Review Program. These programs offer our employees an opportunity to receive supportive feedback, celebrate successes, discuss annual goals and define a career path.
Plus we have a Leadership Development Program. You'll have to apply and go through a selection process with members of our Senior Leadership Team.
THE REWARDS
CCASH's benefits program reflects our commitment to our employee's wellness and wellbeing in a meaningful way. Whether it is supporting your physical and mental wellbeing or financial security, we recognize the different needs of our staff.
We offer:
Medical
Drug
Dental
Vision
Health Care Spending Account
Employee and Family Assistance Program
Life and Accident Insurance
Disability Benefits
Travel Insurance
Participation in OMERS Pension Fund
WANT TO JOIN US?
Whether you are a Child Care Worker, Administrative Professional or have knack for Communications & Fundraising – what we all have in common is a passion for the wellbeing of children and a dedicated commitment to equity and social justice in our community.
Choose a career from our current opportunities, then tell us your story! Don't see an exact fit, drop us a line and be sure to include your resume.